Turfmasters synthetic grass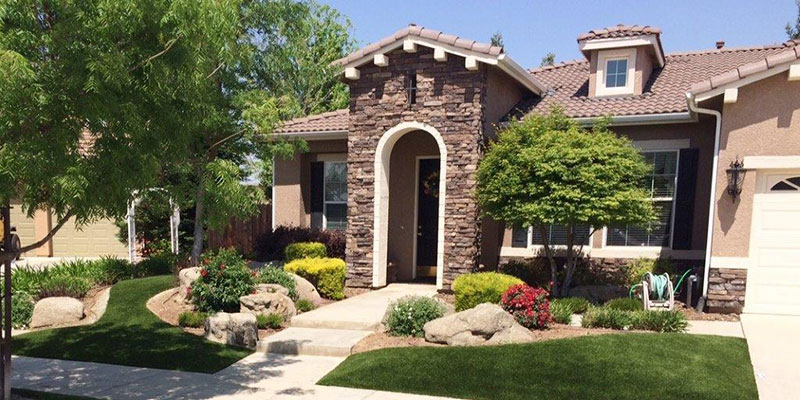 Turfmasters of Fresno is a division of Steelescapes Inc. We have built Turfmasters to serve the San Joaquin Valley on a foundation of honesty, quality workmanship and reliable customer service. That is the Steelescapes way! We are a reputable company that has been creating and installing outdoor environments for over 25 years in the Fresno area. We are the "GO TO" leading landscape contracting company that can handle all your outdoor living space needs, including synthetic lawns and putting greens.
Installation of synthetic grass by Turfmasters has saved our clients time and money and most importantly we have helped them conserve California's most precious resource… Water!
Don't be fooled by those companies that claim to know the artificial turf installation process. Our crews are specifically trained to provide our clients with TOP NOTCH installs. A proper installation takes into account soil grade, traffic patterns, compaction, and blade direction. You can see the difference in a Turfmasters install.
We know that not every situation calls for a synthetic turf product, but when you are looking for a smart alternative to real grass to reduce maintenance, chemicals and water usage, give Turfmasters a call, our Sales Representative will be glad to talk to you. We are happy to help to determine if the decision and investment is right for you and your garden.
So we encourage you to do your homework not only on Turfmasters, but on synthetic grass in general. Check with the California State Contracting Board, Central Valley Better Business Bureau for standings and ratings of local contractors and installers.

Turfmasters is a HERO Registered Contractor. "The HERO Program provides homeowners a unique opportunity to pay for home energy improvements through property tax financing. Benefits include 5 – 20 year terms, tax deduction benefits, transferability when the property is sold and consumer protections." Contact us to learn more about the HERO Program.